Hiking

Day 1/Sunday - Venice Pickup

After your arrival you will be met by John, your tour organizer at either the Venice Airport of the Courtyard Marriott Hotel which is only 200 Yards from the Venice airport. The pick up will be in the morning hours, and you will be transported by van or car to your hotel in Cortina. You will be taking the scenic route and stopping along the way for lunch. You will arrive in Cortina, which is surrounded by the beautiful Dolomite Mountains. After checking in at your hotel, you'll have time for window shopping and exploration. This evening, you will enjoy a full course Italian meal at a popular restaurant for your welcome dinner!





yellow flowers

| | |
| --- | --- |
| Hiking trail to Ferrate Barbara | Bill and Amy |
Day 2/Monday- Hiking Easy
About 4 miles north of Cortina we will hike in on a beautiful service road with the group that will do the Via Ferrata Barbara. The hiking group will hike in the area and join the climbing group at the van or car. We will take a scenic road and head north to a mountain Rifugio for lunch (Flower Meadows). After lunch, we will go to Lake Braies near by for a beautiful walk around the lake. Then, we will go back to your hotel where you can rest and get ready for dinner.

| | |
| --- | --- |
| Colleen taking pictures of Rifugio | Colleen and Katherine |

Day 3/Tuesday - Austria day trip
After eating a good breakfast, we will depart for Austria. We will go through Leinz, Austria, on our way to the Grossglockner, where we will see many beautiful towns and countrysides. We will have lunch near the Glacier, and later we will take a short walk in the area, shop, and depart for Cortina, arriving just in time for our evening meal.
| | |
| --- | --- |
| Grossglockner Glacier 12,460 ft. | rail car to Glacier |

| | |
| --- | --- |
| Andrea going to Rifugio Vandelli | The Lake of Soropiss (6,330 ft.) |

Day 4/Wendsday - Hiking
After breakfast we will leave for another beautiful hike just 6 to 7 miles east of Cortina. We will going to Rifugio Vandelli (6,325 ft.) to have lunch and hike around Lake Sorapis. There will be time in the day after the hike to do some shopping, etc. in Cortina and I would be happy to help in any way, just ask. Rest up and out for dinner.
| | |
| --- | --- |
| Near Rifugio Vandelli | Rifugio Vandelli, (6,325 ft.) |

Day 5/Thursday - Hiking
After breakfast we will be going to the National Park for a beautiful hike around Mt. Paterno 9,010 ft. It is a beautiful hike into the Rifugio Locatelli 8,040 ft. passing a few Refugio's along the way. We will be passing the three peaks of Lavaredo which the highest is 9,852 ft. on the way to Rifugio Locatelli. Depending on the time, we will be having our lunch in one of four Rifugios around Mt. Paterno. We will definitely eat the apple strudel at Rifugio Locatelli because it is the biggest, best tasting strudel I have eaten so far in the Dolomite Mountains. Go to the bottom of the FAQ page and you will see the strudel. On our way back to Cortina, we will stop at Lake Misurina (5,760 ft.) to shop for souvenirs and take a small walk near the lake. Then we will get ready for dinner in Cortina.




the trail to Rifugio Locatelli

| | |
| --- | --- |
| Rifugio Pian di Cengia (8,275 ft.) snowing in July | Rifugio Locatelli (8,040 ft.) - good apple strudel |

Day 6/Friday - Venice (Day Trip)
After breakfast, we will leave Cortina and the Dolomite Mountains behind for one day trip to Venice. We will tour Venice by foot and boat to see the many attractions of this unique city. We will pause for lunch during the tour. Leaving Venice, we will return to our hotel in Cortina, and visit a restaurant for a late dinner.


| | |
| --- | --- |
| Venice Waterfront | a Gondola ride |

Day 7/Saturday - Hiking
After breakfast, we will be going up to the Passo Giau (7,336 ft.), where we will start our last hiking day. Passing Rifugio Scoiaitoli (7,300 ft.) and going to Rifugio Nuvolau (8,500 ft.) to view this most beautiful point in the Dolomites (360 degrees). It is the most frequently visited Rifugio in the Cortina, Dolomite Valley. From Rif Nuvolau we will go to Rifugio Averau for a late lunch. It is rated in the top ten places to eat in the Dolomites. After lunch, we will hike back to Passo Giau a different way that we came in on, or go back to Rifugio Scoiaitoli near the famous Cinque-Torri. It is a popular free climbing area and close by you can visit some battle areas of the war between the Italians and the Austrians. Afterwards, nearby a chair lifts down to Rifugio Bai de Bones (6,200 ft.) for pick up to go to your hotel in Cortina. You'll get your items for packing for tomorrow's early departure and prepare for our farewell dinner.

| | |
| --- | --- |
| Rifugio Nuvolau (8,500 ft.) | the tallest of the Cinque-Torri |

Day 8/Sunday - Venice Departure
After a very early breakfast, we will depart Cortina heading toward the airport or the Courtyard Marriott Hotel where your journey with the Ferrate Tours will end!


Courtyard Marriott (200 yards from the Marco Polo airport)
Phone Number: 39-041-541-5022
Fax Number:39-041-541-5286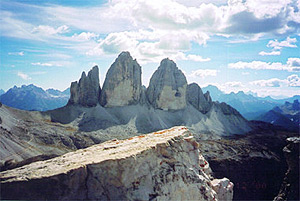 Tre Cime di Lavardeo
Remember the Dolomites
We will be sorry to see you go!